performer • teacher • recording artist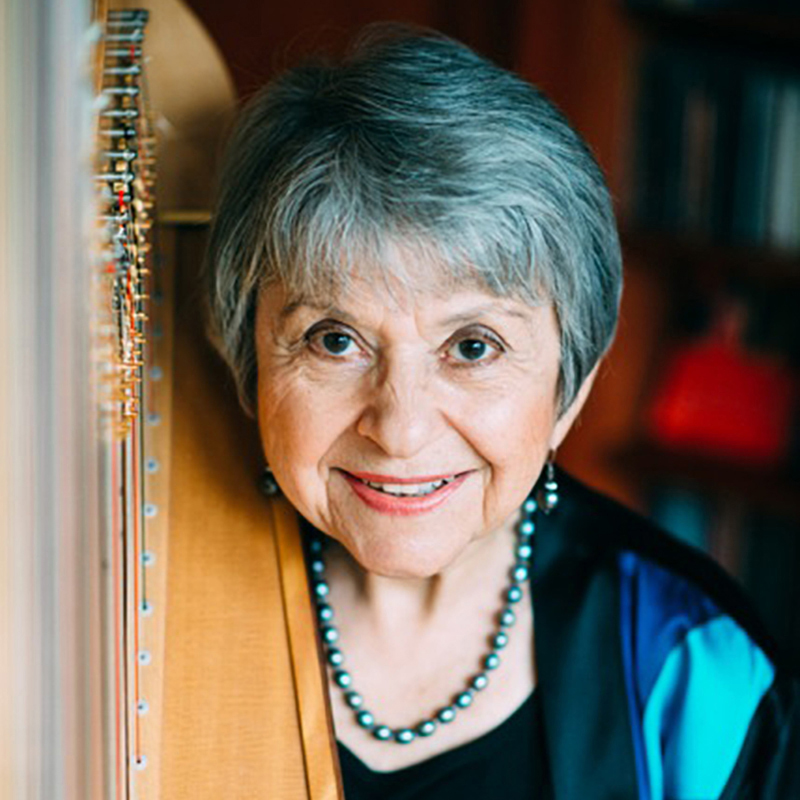 …universally respected as one of the harp's foremost artists of the last 50 years.
—Harp Column Magazine
Toronto-based Judy Loman…serves up an array of virtuoso, sweeping glissandos… Buhr's Tanzmusik: 5 Pieces for Solo Harp… is truly a 'masterwork'.
—Classical Music Magazine
Loman's assured, vibrant artistry makes the best case for each of these works. Her mastery in voicing the music's foreground/background components often gives the illusion that two or more harpists are playing at the same time.
—ClassicsToday.com
I hung, wonder-struck, on every note and nuance the whole way through—and I think you will, too.
—Lindsay Koob,
American Record Guide
Her musicianship is beyond question, and she displays complete mastery of her instrument.
—Music Magazine
Loman's magnetic rhythm and her sense of colour – one often seems to be listening to an orchestra – make her an ideal advocate of this music…
—The Globe and Mail
Recognized as one of the world's foremost harp virtuosos, Judy Loman graduated from the Curtis Institute of Music where she studied with the celebrated harpist Carlos Salzedo. She became Principal Harpist with the Toronto Symphony in 1960, a post she held until 2002.
As a soloist, Judy Loman has won the admiration of audiences and critics alike across Canada, the United States, Europe and Japan. The Toronto Symphony has featured her as soloist on several tours and she has appeared as guest artist with numerous other orchestras and ensembles worldwide. She has participated in many of North America's music festivals and several of her performances have been filmed by Rhombus Media and aired on public television.
A prolific recording artist, she has been a recipient of Canada's Juno Award for best classical recording and the Canada Council's Grand Prix du disque. Canadien. Her newly released CD, La Harpe Fantastique, is a part of her "80s Project", in which she is learning and recording all the pieces that she has wanted to do and never had time for.
In addition to performances of traditional harp repertoire, Ms. Loman has commissioned several new works for her instrument by Canada's foremost composers, including John Weinzweig, R. Murray Schafer, Glenn Buhr and Kelly Marie Murphy. She has introduced these compositions worldwide through her recordings and recitals in North America, Europe, Israel and Japan. Always seeking to add to the harp repertoire, she is active in transcribing classical and baroque works for the harp from the piano repertoire, as well as arranging folk and Christmas music for voice and harp.
Show More
Ms. Loman has been a featured recitalist at several American Harp Society Conferences and for the World Harp Congress. She gave the opening recital for the American Harp Society's Millennium Conference in 2000. A highlight of this concert was the World Premiere of Kelly Marie Murphy's "Illuminations", commissioned for Ms. Loman by the Canada Council of the Arts. Her appearances with the World Harp Congress were in Paris, France, Tacoma, Washington, Dublin, Ireland, where she performed R. Murray Schafer's Harp Concerto, Glen Buhr's Concerto for flute and harp, and Kelly Marie Murphy's Harp Concerto, respectively. In her opening recital at The World Harp Congress in Vancouver, Canada, she performed R. Murray Schafer's Crown of Ariadne, and the premiere of Trio for Flute, Viola and Harp by Kelly Marie Murphy.
A dedicated teacher, Judy Loman taught at The Curtis Institute of Music for several years and continues there as a Visiting Artist on occasion. She is Adjunct Professor of harp at the University of Toronto, and Instructor of harp at the Glenn Gould School of Music, a part of the Royal Conservatory of Music in Toronto. She gives Masterclasses worldwide and has adjudicated at the International Harp Contest in Israel, the USA International Harp Contest and The Vera Dulova International Harp Competition in Moscow, as well as composition competitions and young artist competitions held by the American Harp Society and the Fukui Festival.
In June of 2002 Ms. Loman retired from the Toronto Symphony Orchestra to devote her time to teaching, recording, concertizing and the publishing of her arrangements and transcriptions. To celebrate this new turn in her career the Toronto Symphony Orchestra and the Canadian Broadcasting Corporation commissioned the Concerto for harp and Orchestra by the Canadian composer, Kelly-Marie Murphy which she premiered on June 12th. 2002. Ms. Loman subsequently received a grant from the Ontario Arts Council to commission Kelly Marie Murphy's Trio for Flute, Viola and Harp. She performed the world premiere of this trio at her opening recital for The World Harp Congress held in Vancouver in 2011.
Judy Loman continues to teach, perform, and record. For her 80th birthday she received grants from The Canada Council and Michael Koerner to publish a two CD collection of all of R. Murray Schafer's 7 works for harp. These CDs include performances by harpists Lori Gemmell, Heidi Krutzen, and Judy Loman.
Loman is a Fellow of the Royal Conservatory of Music and was honoured to become a Member of The Order of Canada in 2015.
Toronto Symphony Orchestra • principal harp
Calgary Philharmonic Orchestra • guest soloist
Edmonton Symphony Orchestra • guest soloist
CBC Vancouver Orchestra • Guest soloist
Juno Award • Best Classical Album
Order of Canada
American Harp Society • featured soloist
World Harp Congress • featured soloist
BBC Symphony Orchestra

Orchestra Symphonic du Quebec
Concert for Young Artists Harp Seminar, 2021
Program:
Bylina's Scales, Kikta
FANTASIE IMPROMPTU, Chopin/Fulton
La fille aux chevaux de lin, Debussy/Salzedo
Clair de lune, Debussy/Couer
The Moldau, Smetana/Trnecek
Concert for Young Artists Harp Seminar, 2020
Program:
Variations on a Theme in Ancient Style, Salzedo

OBLIVION, Piazzolla/Jamieson

Lamentation, Salzedo

Madone, Lizotte

2nd Sonatine, Tournier

Raga, Lizotte, with Angela Swchwarzkopf
Judy Loman's extensive discography includes over 30 acclaimed solo and ensemble recordings. Find them at major retail outlets or purchase the starred CDs directly from her by sending an email.
Study with Judy Loman
In addition to leading master classes around the world, Ms. Loman is a visiting artist at the Curtis Institute of Music, adjunct professor of harp at the University of Toronto, and a fellow of Toronto's Royal Conservatory.
Judy Loman teaches privately at her home studio in Toronto and online. Contact her for availability.
Affiliations
Judy Loman has taught at esteemed programs including:
The Curtis Institute of Music
University of Toronto

Toronto Royal Conservatory of Music

Young Artist's Harp Seminar
Student achievements
Judy Loman's former students have won positions in major orchestras and prizes at top competitions including:  
USA International Harp Competition
International Harp Contest in Israel
Metropolitan Opera Orchestra
Orchestra Symphonic de Montreal
Canadian Opera Orchestra
Vancouver Symphony
Edmonton Symphony
Quebec Symphony
Kitchener-Waterloo Symphony
Cincinnati Symphony
Seattle Symphony
Madison Symphony Orchestra
Stockholm Philharmonic
Orchestra Philharmonic de Radio France

Orchestra Symphonic du Quebec